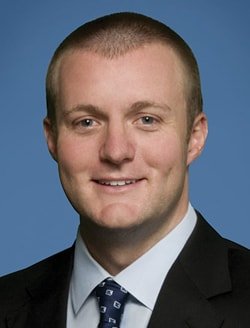 Address:
TWO LOCATIONS:
Hinsdale Orthopaedics
951 Essington Road
Joliet, IL 60435
Phone: 815-744-4551
Fax: 815-744-4756
Alternate Fax: 815-744-1018
Hinsdale Orthopaedics
1870 Silver Cross Boulevard Suite 200
New Lenox, IL 60451
Phone: 815-462-3474
Fax: 630-579-5860
Dr. Burgess joined the Hinsdale Orthopaedics team in July 2012 as a specialist in the operative and nonoperative treatment of foot and ankle disorders. Dr. Burgess is trained in all aspects of the foot and ankle and has a special interest in sports medicine, bunion correction, ankle arthroscopic surgery, fracture care, and complex rearfoot reconstructive procedures.
Dr. Burgess received his podiatry degree from the Dr. William M. Scholl College of Podiatric Medicine in 2009 and his bachelor's degree, with honors, from the University of Illinois at Urbana-Champaign. Dr. Burgess completed a three-year podiatric surgical residency in trauma and reconstructive surgery of the foot and ankle at Mercy Hospital and Medical Center in Chicago.
In addition to his clinical practice, Dr. Burgess is actively involved with resident education and is a Department of Orthopedics Clinical Assistant Professor at Loyola University. He is also an active member of the American Podiatric Medical Association and the American College of Foot and Ankle Surgeons.