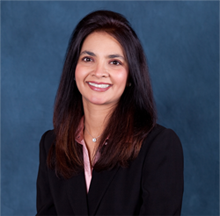 Address:
TWO LOCATIONS:
Spectrum Eye Institute
963 N. 129th Infantry Drive, Suite 100
Joliet, IL 60435
Phone: 815-729-3777
Fax: 815-725-9373
Spectrum Eye Institute
1870 Silver Cross Boulevard, Suite 220
New Lenox, IL 60451
Phone: 815-723-1854
Fax: 815-463-9542
Dr. Samra Hashmi, a partner of Spectrum Eye Institute, specializes in intraocular lens implant surgery, corneal transplant surgery and refractive or laser vision corrective surgery for nearsightedness, farsightedness and astigmatism. Board certified ophthalmologist and member of the American Board of Ophthalmology, Dr. Hashmi earned her medical degree at the premier medical institute in Pakistan, The Aga Khan University, in 1994.
Her Postgraduate training included a research fellowship in the Hypertension section, Department of Cardiology, Mount Sinai Medical Center, New York and a Research fellowship in Cornea and External Diseases at the New York Eye and Ear Infirmary in New York City. Samra Hashmi, MD completed her residency in Ophthalmology at the Medical College of Georgia 1998 – 2001. She completed her Fellowship in Refractive Surgery, Cornea in 2003 at the Cole Eye Institute, Cleveland Clinic Foundation. Dr. Hashmi performs cataract surgery with premuim multifocal inplants (TECNIS®, Toric, ReSTOR®) using the current no-stitch, no-patch technique.
Samra Hashmi, MD is affiliated with the following professional organizations. American Society of Cataract and Refractive Surgeons American Academy of Ophthalmology Association for Research in Vision and Ophthalmology American Society for Hypertension Dr. Hashmi has been active in ophthalmic research and participated in various FDA clinical trials. Her work has been published in professional peer-reviewed medial journals.
In her free time, Dr. Hashmi enjoys spending time with her husband Nashib, a nephrologist and their three children. She is active in the community and her hobbies include traveling and reading books.