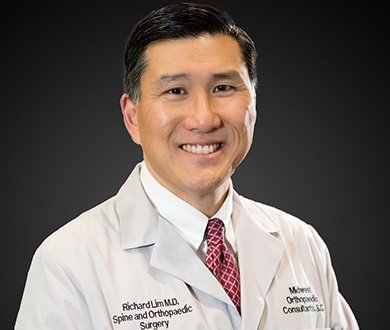 Specialty:
Orthopedic Surgery
Address:
Midwest Orthopaedic Consultants
10719 160th Street
Orland Park, IL 60467
Richard D Lim is an orthopedic specialist who graduated from the Honors Program in Medical Education at Northwestern University Medical School and completed his Orthopaedic Residency at McGaw Medical Center at Northwestern University, Chicago 1996. Upon graduation, he pursued specialized post-graduate fellowship training at the Spine Institute for Special Surgery in Louisville, Kentucky where he was extensively trained in the surgical and non-surgical treatment of spinal disorders. Since 1997, Dr. Lim has devoted his private practice solely to the treatment of Orthopaedic Surgery and specifically spinal problems.
He has served on numerous committees including the Pain Management Committee, Medical Executive Committee, Surgical Executive Committee, Credentials Committee, Performance Improvement Committee, and has special interest in Continuous Quality Improvement in the delivery of care to the spinal disorder patient. He has developed and pioneered the Minimally Invasive practices in his hospital and has presented on numerous topics at the local and national level.
Dr. Lim specializes in treatment of disorders of the cervical and lumbar spine and has a special interest in the treatment of Worker's Compensation patients, spine deformity cases and cervical disc disease. He has extensive experience in performing Independent Medical Evaluations and chart reviews and serves as a spine consultant for the Greeley Corporation