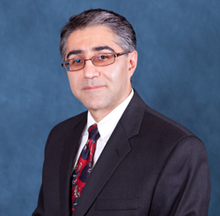 Address:
Spectrum Eye Institute
963 N. 129th Infantry Drive, Suite 110
Joliet, IL 60435
Phone: 815-729-3777
Fax: 815-725-9358
Spectrum Eye Institute
1870 Silver Cross Boulevard, Suite 220
New Lenox, IL 60451
Phone: 815-723-1854
Fax: 815-463-9542
Dr. Rassouli, a partner of Spectrum Eye Institute, attended Michigan State University College of Osteopathic Medicine from 1994 – 1998. He received his Bachelor of Science (Microbiology) in 1991, from the University of Washington. His Postgraduate training included an internship at Henry Ford Hospital/Bi-County Community Hospital in Michigan. Dr. Rassouli completed his residency at Chicago College of Osteopathic Medicine/ Midwestern University from 1999 – 2002. He completed his Cornea and Refractive Surgery Fellowship in 2003 at the University of Illinois, Chicago. Dr. Rassouli performs cataract surgery with premuim multifocal implants (TECNIS®, Toric, ReSTOR®) using the most current no stitch-no patch method.
Dr. Rassouli is Board Certified by the American Academy of Ophthalmology. He is also affiliated with the following professional organizations.
American Academy of Ophthalmology
American Society of Cataract and Refractive Surgeons
American Osteopathic Association
American Osteopathic College of Ophthalmology, Otolaryngology/Head and Neck Surgeons
Majid Rassouli, D.O., Ophthalmologist
Specializing in cataract surgery and cornea transplants