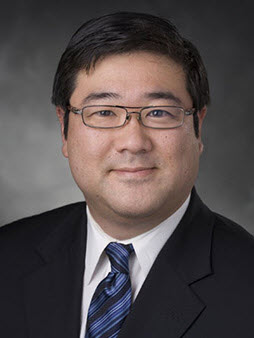 Song, John K., MD, FAANS, FACS, CIME
Specialty:
Spine
Neurosurgery
Address:
Neurological Surgery and Spine Surgery
1 Westbrook Corporate Center
Suite 800
Westchester, Illinois 60154
Dr. John Song is a Board-Certified and Fellowship-trained Neurosurgeon who has been practicing in Chicago for many years. He obtained a degree in mechanical engineering from the University of Texas at Austin but decided that medicine was a better fit for him due to his interest in interacting with and caring for people. He completed his neurosurgery residency at Vanderbilt University and subsequently completed a Fellowship in Minimally Invasive Spine Surgery at the University of Chicago.
Dr. Song became faculty at Northwestern Memorial Hospital as an assistant professor in the Department of Neurosurgery before leaving to become head of neurosurgery at Illinois Masonic Medical Center. He is a member of both the American Association of Neurological Surgeons and the Congress of Neurosurgeons, the North American Spine Society, the Joint Section of Spine Surgery, and is a Fellow of the American College of Surgeons. He is now privileged at a number of hospitals including:
MacNeal Hospital
Gottlieb Memorial Hospital
Adventist LaGrange Memorial Hospital
Adventist Bolingbrook Hospital
Adventist Hinsdale Hospital
Elmhurst Memorial Hospital
Northwestern Memorial Hospital
The Center for Minimally Invasive Surgery
Dr. Song has authored many peer-reviewed scientific papers and co-authored several book chapters in neurosurgical texts. He has also participated in training other surgeons in minimally-invasive spinal surgery techniques. In addition, with his background in mechanical engineering, he has been on an implant design team for DePuy Johnson & Johnson, invented several devices for use in surgery and has founded several medically-based companies.
Dr. Song practices general neurosurgery but focuses mainly on treating disorders of the spine. Such disorders include herniated discs, radiculopathy, myelopathy, spondylolisthesis, stenosis and spinal fractures. He takes time to listen to his patient's problems and will try to devise a comprehensive team-based approach to help his patients recover and work with them to keep them healthy. When surgery is required, Dr. Song uses state-of-the-art minimally invasive techniques to minimize the length of surgery and to speed recovery – in many cases these surgeries can be performed in an outpatient setting.